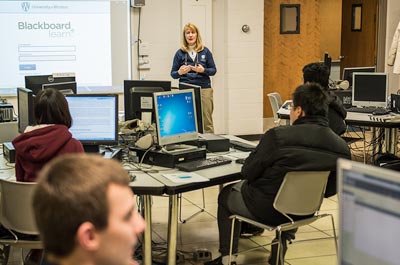 Blackboard Learn will significantly enhance our capacity to offer engaging, high-quality online and blended learning and teaching, and allow greater support for instructors pursuing new pedagogical approaches.
Blackboard is:
Customizable - Provides customization options to support a range of pedagogical styles, organization, templates, personal notifications and adaptive release of materials.
Interactive - Enables instructors to connect and engage with students through wikis, blogs, rich video, audio, text chatting, and discussion board options using desktops, laptops, tablets, and smart phones.
Intuitive - Includes extensive online help documentation and videos 24/7/365 to help users find about how to use features.
Efficient – Offers more options for providing student feedback and easier, integrated grading.
Group Friendly – Includes several tools for integrated, interactive, and efficiently run group work.